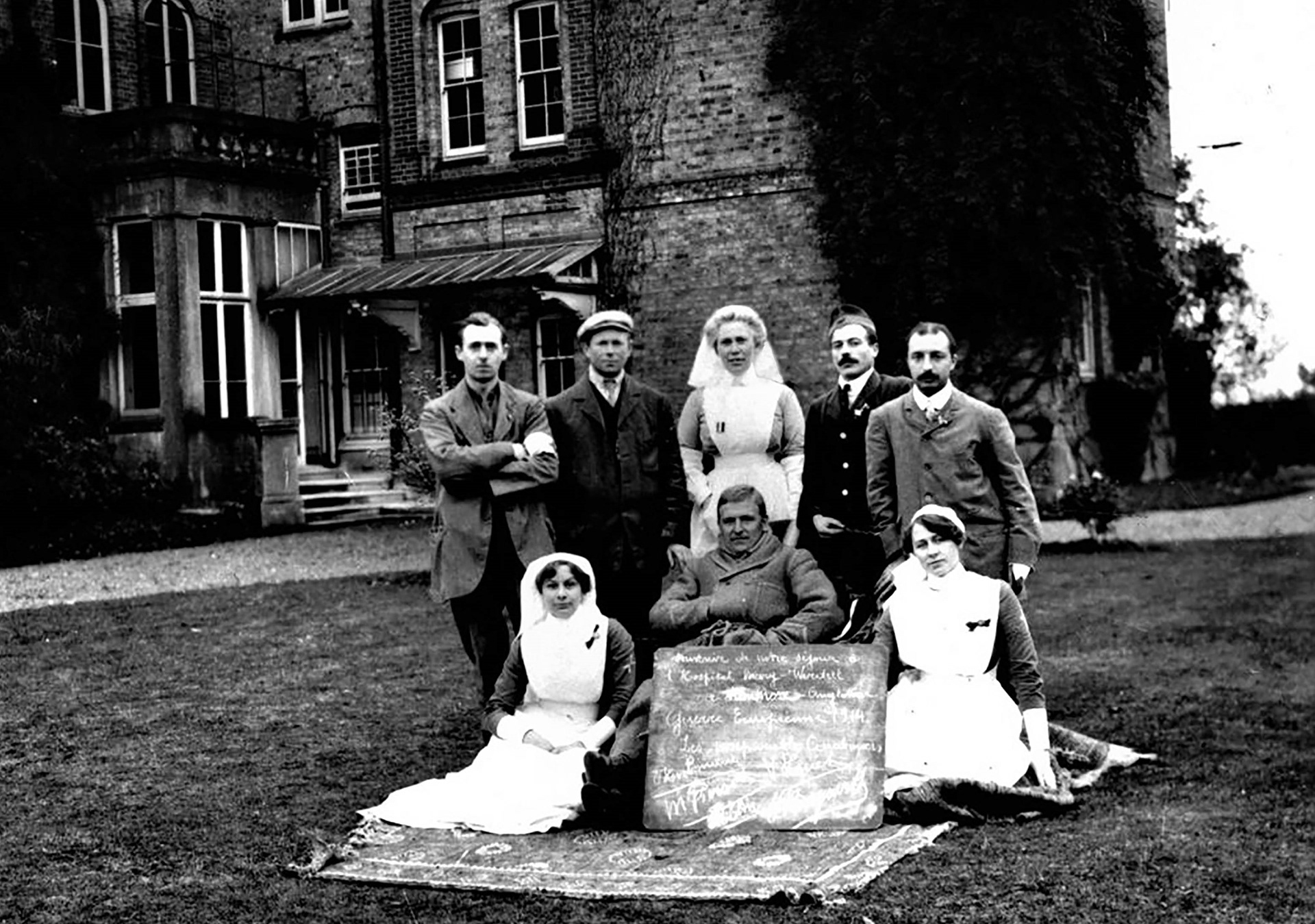 Searching
for the Gre

y Lady: 
A Ghost fro

m WW1 at the RNOH
The

RNOH recently completed the building of a new hospital. As another chapter in their long history begins, this project proposes exploring the founding and evolution of this world-renowned orthopaedic hospital, beginning with the hospital's ghost - known as the 'Grey Lady'. 
Some believe her to be Mary Wardell, who in 1883 purchased the Stanmore site for a scarlet fever convalescent hospital, which subsequently became a First World War auxiliary military convalescent hospital. By July 1915 it had 56 beds for sick and wounded servicemen and was known variously as the Wardell Auxiliary Hospital or the Wardell Military Hospital.
'Grey
Lady' ghosts are often associated with military hospitals, and this project hopes to reveal many fascinating First World War era narratives at the RNOH,
from the perspective of clinicians, patients, staff and volunteers whose lives continue to be shaped by that heritage. 
Pegleg

Productions proposes to enable participants' access to archives, with training for heritage research and documentation - including documenting surviving First World War era traces and objects on the Stanmore site and
 exploring the training of disabled ex servicemen and civilian patients as technicians for Prosthetics and Orthotics.
Ta

lks

by historians, events, and final film screening, would celebrate and share this important RNOH history with the wider public.
​​​​​​​
MARCH 2020: COVID-19 and LOCKDOWN
But with the arrival of Covid-19 and its traumatic effect on all our lives, Pegleg Productions had to stop contact with participants and stop filming on the RNOH site. 
The RNOH was transformed into a

London Orthopaedic Trauma Centre treating patients of all ages, regardless of COVID status; yet another chapter in its long history of evolution in response to national crisis and challenge. 
Responding to 'Stay At Home' and 'Lockdown' creativity, Pegleg Productions decided to re-purpose 'Searching for the Grey Lady' by creating a podcast that shares the remarkable story of the RNOH through an atmospheric audio narrative utilising the archives discovered during our explorations at the RNOH.
Pegleg Productions in collaboration with the RNOH, invited RNOH staff, clinicians, patients, the whole spectrum of those involved with the hospital, to take part in the creat

ion of the podcast by

reading excerpts from the archives and recording their readings at home on their phone:
The podcast is being developed in creative collaboration with the RNOH hospital radio
Radio Brockley
For more information and updates about  the Podcasts go to the Podcasts pages, to be updated as the project progresses.​​​​​​​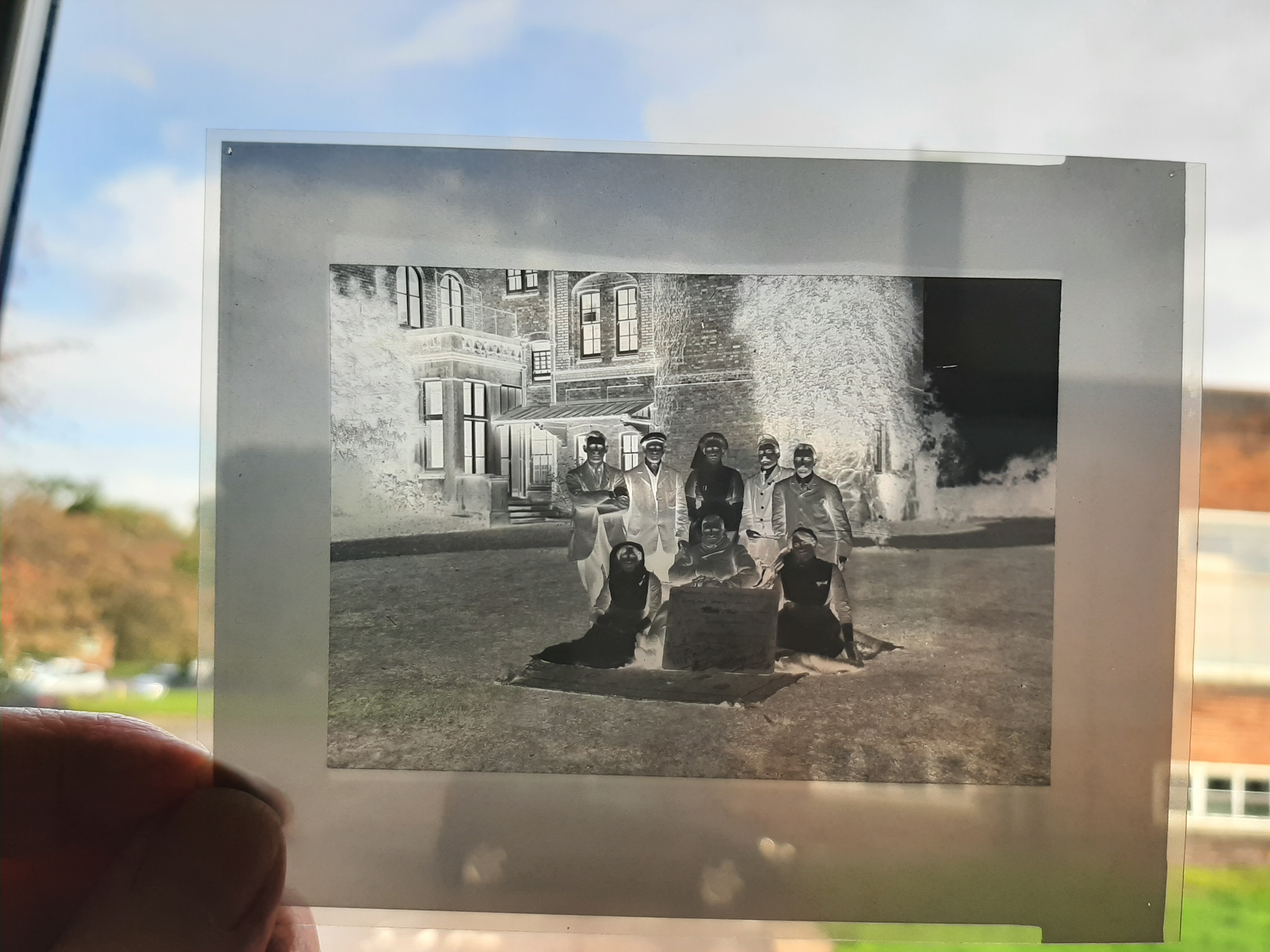 Pegleg Productions Project Lead Nicola Lane writes:

​​​​​​​
"We are thrilled to receive this support from the 
National Lottery Heritage Fund
, which thanks to National Lottery players will enable us to reveal and share the RNOH's First World War legacy of rehabilitation and renewal from the perspective of people whose lives continue to be shaped by that heritage."

Gateways' Community Heritage Researcher Dr Sam Carroll worked with Pegleg Production's Nicola Lane to help develop this project, and our academic team, which includes Dr Julie Anders

on (University of Kent), Dr Jessica Meyer (University of Leeds) and Professor Alison Fell

(University of Leeds), are providing ongoing research support including a visit and talk from one of them. Project participants also attended our "Accessing Archives" event at Hampshire Archives and our "Creating exhibitions and hosting heritage events" workshop at the IHR in London.For more information see:

Check out Bridget Galton's article about the search for the 'Grey Lady' in the
Hampstead and Highgate Express:
Pictured below
 Holly Bullen's article in
December's 
Stanmore News: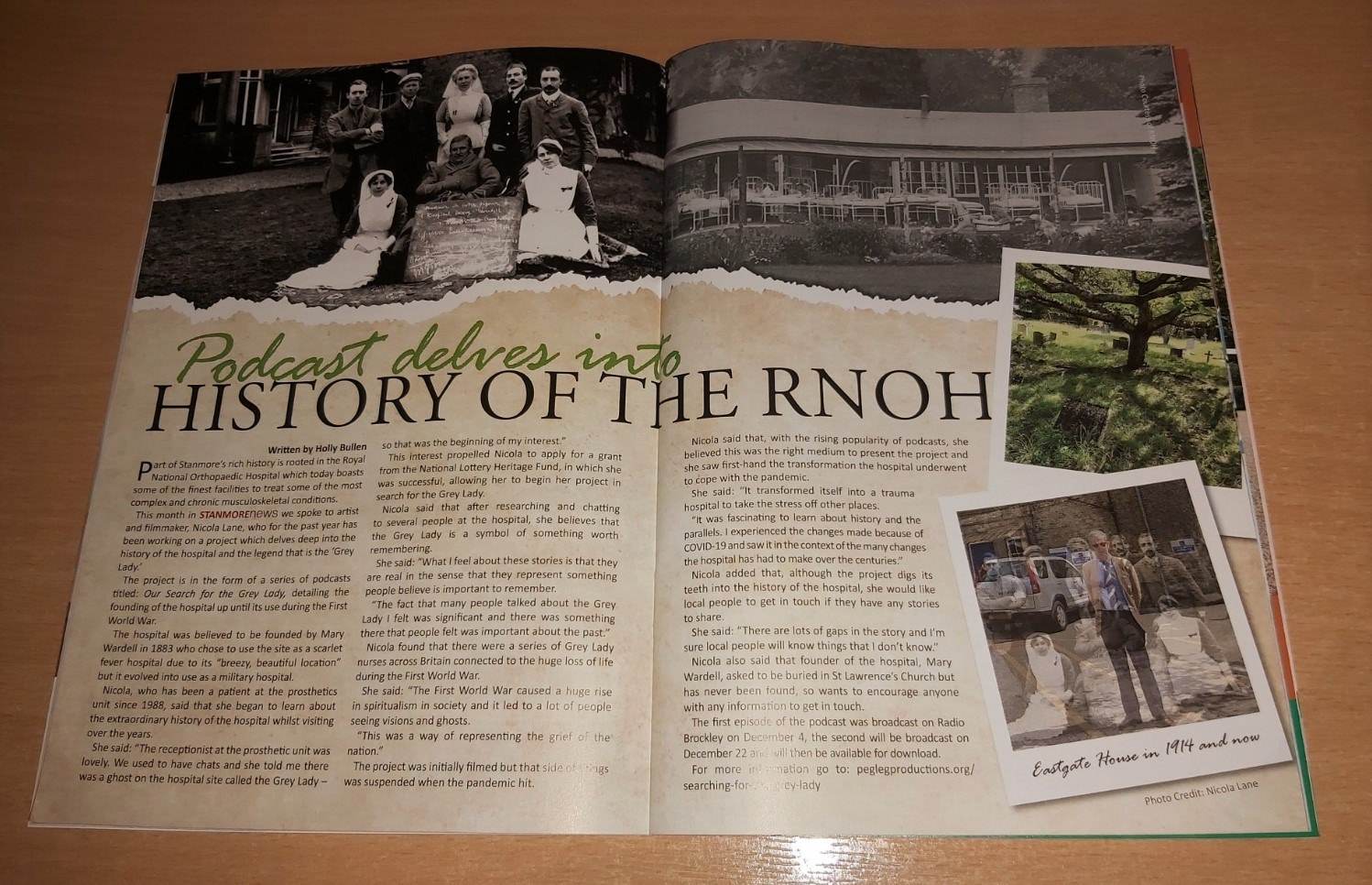 Check out the latest issue of RNOH 'Articulate' magazine, with important stories from the Covid frontline, and an excellent article about Searching for the Grey Lady project: