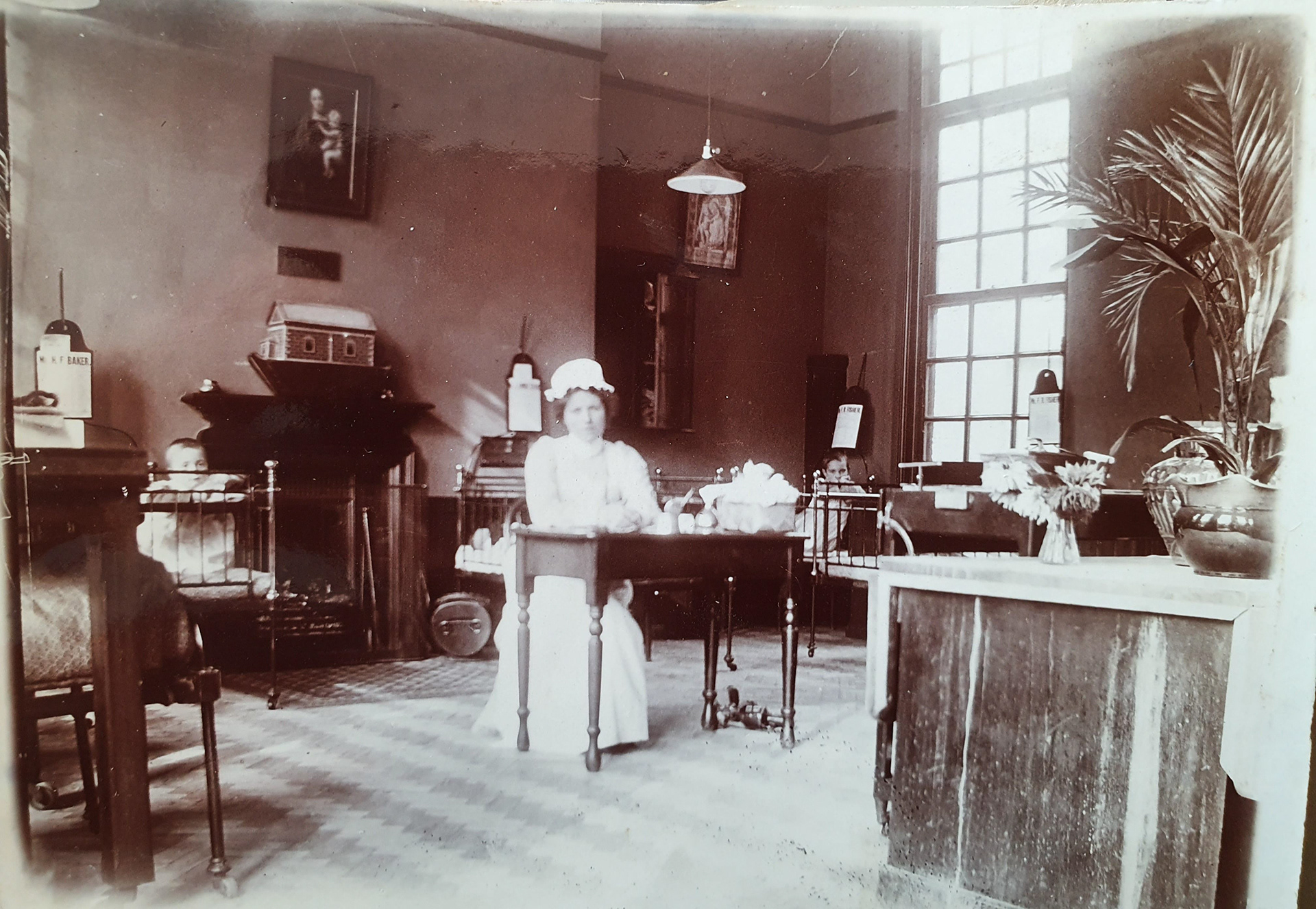 Adventures in a London Hospital 
reveals life in a children's hospital ward from the point of view of a 15 year old boy in 1905 - t
hanks to a wonderful discovery by RNOH Head of Research and Innovation Iva Hauptmannova. 
In 2019, inside a cardboard box of archives Iva discovers a scruffy brown envelope containing many treasures.
These include a fragile 'Penny Notebook', titled 

 'Adventures in a London Hospital, by Frank Ruck',

carefully written in pencil and dated 1905. Frank describes his operation and long stay in Samuel Fielding Ward, the Children's Ward for boys in 'a well-known London Hospital' (the RNOH) in Great Portland Street. 
The brown envelope also includes a detailed map of Samuel Fielding Ward drawn by Frank, with every part carefully labelled, including the rocking horse, pictured below top right, labelled: 

"Large cupboard, Rocking horse on top":
​​​​​​​
This treasure is accompanied by Frank's wonderful photographs
documenting his Ward, his fellow patients and the Nurses. I
n 1966, when he was 75, he sends his notebook and photographs to a Mr Blake - who, we discovered thanks to his son, Mr John Blake,  worked at the RNOH for 43 years ( barring war service in Burma) as 
assistant treasurer, then 'House Governor and Secretary to the Board'.
​​​​​​​
Frank's childhood experiences in the Samuel Fielding Ward were clearly very important to him, and like so many of us as we age and contemplate our mortality, he wanted to share them and ensure their survival. How marvellous they have been re-discovered, and that they will take their place in the RNOH archives.
For more information about the RNOH and Great Portland Street go to:
Let us explore these unique and beautiful images and enter Frank's
vanished world of 1905... 
As Frank identifies in his 1966 letter to Mr Blake,

"The dark boy in the Photo is, I believe, a fellow called Demingo Durfoe. ( I took the pictures)."
The 'Dark boy' Demingo Durfoe and another boy stare at Frank as he photographs them. The "Large cupboard, Rocking horse on top"

is there on the right, as described in his map of the Ward, obscured by the potted palm that is a feature of Victorian hospital wards. 
Perhaps it is Visiting Day - Frank tells us how the Ward would be filled with flowers on special days.
The boys in their cots are also posing for Frank - and is the Nurse encouraging the little patient in the cot by the fireplace (Cot 9 in the map) to respond to Frank's camera?
The plaque above the cot identifies a benefactor. In Episode 1, "The Triumph of Miss Mary Wardell" an article from 
The Western Times
 about the opening of  Mary Wardell's Convalescent Home in 
1884,
describes how these benefactors were commemorated:
"...In one room to be devoted to children I saw a little cot filled with lovely white Flowers and ferns, and on it was an illuminated announcement that this cot was endowed by a certain lady in memory of "Ethel", her only child, who died from the effects of scarlet fever…"
B
ooks, toys, ornaments and pictures would also be presented by benef
actors. Pictured below is a Noah's Ark on the mantlepiece:
"Noah's Ark toy sets were incredibly popular in the Victorian era for well-to-do families. These sets were usually made as 'cottage industry' family enterprises in Germany. Instead of large factories making toys, individual families would produce full sets or even just one type of animal...
Historically these Biblical toy sets would usually be used only on Sundays, the same day as church services. Sometimes they would be the only toys allowed to be used on that day!"
The hanging tablets by the cots could be patient information, with names of the Surgeons.
The pictures are all reproductions of religious paintings. Above the Noah's Ark is the
 '
Granduca Madonna' by Raphael, from the Palazzo Pitti in Florence. On the right (pictured below) is a reproduction of a
Madonna and Child cera
mic relief by Florentine artist Andrea della Robbia: 
Pictured below is another view of the Ward, and features Frank's favourite - a "dear little chap" who is "petted by all the nurses and getting very spoiled..." and who has had his foot amputated. The name of the Surgeon on the tablet propped up on the mantlepiece can be deciphered as Mr Muirhead Little, and in 'Plarr's Lives of the Fellows' on the Royal College of Surgeon's website, we learn he specialised in amputations. In the First World War
Mr Muirhead Little

 acted as surgeon to Queen Mary's Auxiliary Hospital at Roehampton, where disabled officers and men were fitted with artificial limbs. 
​​​​​​​​​​​​​​
"...Muirhead Little lived to see orthopaedic surgery rise from a small and somewhat neglected branch of medicine to a well recognised position, held in high esteem both socially and professionally... When he began his professional life three small hospitals were devoted to orthopaedic surgery, the Royal, the National, and the City. Their funds were low and they were not well conducted. Under pressure from the King's Hospital Fund they were amalgamated in 1905, and the Royal National Orthopaedic Hospital was opened in Great Portland Street in 1909. The staff was carefully selected and the hospital was conducted on modern lines..."
Above the fireplace is another reproduction of ceramic reliefs by Florentine artist Della Robbia, and it reveals a fascinating story.  
The picture is a reproduction 

of the 'Bambini', ceramic 

reliefs of babies in swaddling clothes 

by Andrea della Robbia, created around 1463 for the exterior of the Florentine 'Ospedale dei Innocenti' - the 'Hospital of the Innocents', which for over 500 years provided care for abandoned and orphaned infants & children in Florence. It is thought to be the oldest continuously operating children's care institution in the world.
​​​​​​​​​​​​​​
The Innocenti building was commissioned in 1419 and designed by Filippo Brunelleschi, considered by many to be the most important architect of the Renaissance. It represented a completely new concept in hospital design, based on the grand architecture of a 'palazzo', rather than a utilitarian public institution.
A vast archive contains records for all children cared for from the arrival of the first foundling in 1445. UNICEF and the 'Istituto degli Innocenti' now collaborate on a number of research projects and maintain a joint research library facility.
Pictured below a close up of one of the 'Bambini':
The images of Della Robbia's 'Bambini' in Samuel Fielding Ward reflect the charitable status and intentions of the Great Portland Street RNOH - a 'Voluntary Hospital' with free treatment for the poor, and dependent
on donations, endowments and charity for survival, as was Mary Wardell's Convalescent Home For Scarlet Fever.
The city of Florence with its beautiful architecture, galleries and works of art was a popular destination for the affluent British in the late Nineteenth Century, and the benefactor who donated these pictures must have been part of that cultural tourism.
Many Nineteenth Century founders of hospitals and Public Health reformers were ambitious for their hospitals, believing that fine architecture and beauty were an important part of the healing process. Many adopted the style of Della Robbia 'roundels' for architectural art works, possibly including the
RNOH plaque on the front gate at Stanmore:
The lived experience of children like Frank Ruck, long-stay patients undergoing orthopaedic procedures, is an important part of the history of the RNOH, then and now. 
Radio Brockley's 
Award Winning broadcaster Keith Reeve was himself a child patient at the RNOH in the late 1960s and into the 1970s, and in this episode he reflects on Frank Ruck's 'Adventures in a London Hospital' by sharing his own memories of scoliosis treatment and life in the Adolescent Ward at the RNOH. 
As Keith says, although there are many differences, there are also many similarities.
RNOH patient and musician Paul Gregory reads Frank Ruck's adventures, Keith Reeve shares his memories, and Iva Hauptmannova shares her reflections on discovering the archives. Click on the images below for more details:
Pegleg Productions warmly thanks the Radio Brockley team, the

RNOH

, and all those who generously volunteered to take part. 
Cast in order of performance:
Narrators: 

Keith Reeve

and

Iva Hauptmannova
Frank Ruck:

Paul Gregory
​​​​​​​
"I Cannot Sing the Old Songs"/ 1905 / Richard Jose 
​​​"
The Children's Corner" by Claude Debussy / performed 1913 by Debussy himself, transcribed from old piano wax cylinder rolls.
"Episode 4: Adventures in a London Hospital" is available to listen or download on the Radio Brockley website: